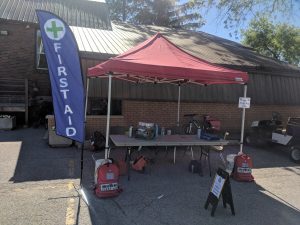 A key component of our program is providing volunteer first aid service at a variety of events, including runs, fairs, overnight camps, and sporting events.
We normally operate from one of several first aid post(s), with roaming teams on foot to patrol areas and respond to emergencies.  Occasionally bikes or other vehicles are used.
Our members are trained to various levels, including:
Standard First Aid
Advanced Wilderness and Remote First Aid
First Responder
Emergency Medical Responder
Some of our senior members are trained as Paramedics and other healthcare professionals and may be available to volunteer at events
If you require a certain level we can try to accommodate you but due to the volunteer nature of our services cannot guarantee availability.
We provide all the required first aid supplies, including an AED.  For most events, we request that a tent or an indoor space is available for us to use to set up our first aid post to ensure optimal patient care.  We can provide our own tent if needed.  We will also bring radios to ensure that communication can be established between event organizers and our MedVents.
For larger events, we may also work with other MedVent groups from around Ontario.